Online Escape Game "The Heist Begins"
The story
"Your plans are well organized," lawyer Magniski told the four gang leaders. "Your burglars from Amsterdam will go to the safe in the room of the curator of the Rijksmuseum as soon as possible. The digital lock decoder of the hackers from Almelo will help you with that. And now take action, we don't have all night!"
This online esacape game, with an emphasis on puzzle solving, is part of the story of the Real Life Escape Game "After the Heist". The story of "The Heist Begins" takes place in the timeline of "After the Heist", but is not played out in the real life game.
The online escape room
This is suitable for 1-5 players.
The game takes about an hour.
Hints can be consulted per puzzle. When competing hints add extra time to end result.
Costs are low: only 15 euros per group.
Once you register, you must play the game within 3 days.
With multiple teams competing against each other: download end time to compare results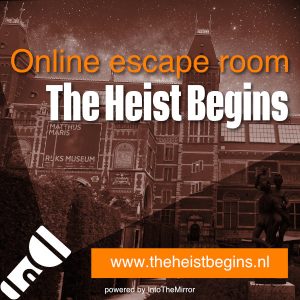 Escape game De Luxe: with a drink package
Expand your experience with a criminally tasty drink package for each participant. For only 29.50 euros p.p. you get the following:
Access to the online escape game "The Heist Begins"
Budvar pilsner & white beer 't IJ or mocktail & bubble juice or bottle of red wine or bottle of white wine
Tasty Spanish snack sausages or vegetarian: Italian olives
Hand-cooked chips from England
Real British Salty Dog pub nuts
Parmesan cheese snacks from Italy
Healthy snacking with tasty dried fruits and berries
Dried banana in a yogurt coating
Tasty nibble with Asian rice crackers
Including shipping costs
This package with enough for 1 to 2 people is sent home to all participants.
How does it work?
Please contact us. You will receive a URL where the participants indicate their choice for the type of drink (up to one week before the start of the game). And finally you will receive the login codes and an invoice. The drink package is delivered the day before the game.
(Under the GDPR, participants' data will be deleted within five working days of the event.)
Discount
If you manage to finish the game, you will receive a 10% discount for "After the Heist" on location or for "After the Heist Online".
Wanna know more about 'The Heist Begins'? Please contact us. We are happy to help.
'The Heist begins' is an experience of
IntoTheMirror
Tromplaan 10, 3951 CL Maarn
M + 31 (0)6 80 07 36 07
I www.intothemirror.nl
KVK 66061644
GEWEEELDIG WE HEBBEN GEWONNEN JWZZZ
Erg leuke en uitdagende escape room! Zeker een aanrader nu in coronatijden.