Online Escape Game "The Heist Begins"
The story
"Your plans are well organized," lawyer Magniski told the four gang leaders. "Your burglars from Amsterdam will go to the safe in the room of the curator of the Rijksmuseum as soon as possible. The digital lock decoder of the hackers from Almelo will help you with that. And now take action, we don't have all night!"
This online esacape game, with an emphasis on puzzle solving, is part of the story of the Real Life Escape Game "After the Heist". The story of "The Heist Begins" takes place in the timeline of "After the Heist", but is not played out in the real life game.
The online escape room
This is suitable for 1-5 players.
The game takes about an hour.
Hints can be consulted per puzzle.
Costs are low: only 12,50 euros per group.
Once you register, you must play the game within 3 days.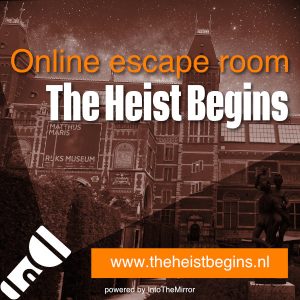 Discount
If you manage to finish the game, you will receive a 10% discount for "After the Heist" on location or for "After the Heist Online".
Wanna know more about 'The Heist Begins'? Please contact us. We are happy to help.
'The Heist begins' is an experience of
IntoTheMirror
Tromplaan 10, 3951 CL Maarn
M + 31 (0)6 80 07 36 07
I www.intothemirror.nl
KVK 66061644
Echt heel leuk! Een aanrader! Ik vertel het door!
De escape room middag was een succes. Leuk gedaan!
GEWEEELDIG WE HEBBEN GEWONNEN JWZZZ